Dressing for the office can be tough when there aren't many options that simultaneously make you look professional and feel authentic. These days, androgynous business casual is more about being yourself than anything else Luckily, we have some handy tips for how to look your best when you prefer to dress masculine of center, thanks to our friend Corinne Phillips! Corinne is a style consultant and host of Transition of Style, a podcast that discusses the places where personal style and identity meet. To add even more to her impressive resume, she is also one of the co-founders of QueerCut, a global, gender-free marketplace and online community that connects LGBTQ+ shoppers with queer-friendly brands and products.  
Here are Corinne's wardrobe go-tos, tips for presenting yourself professionally at work, and some brands she loves to help you look your absolute best! We will let Corinne take it from here!
Why Is It Important To Look Professional And Authentic At Work?
The first thing people notice about you is often what you're wearing and how you're dressed. Even before you communicate with them verbally you're already communicating a lot about yourself with your appearance. Regardless of what you enjoy wearing or what your personal style is, if you want to communicate confidence and self-assuredness I strongly believe that what you are wearing is a huge piece of the puzzle.
How many times have you experienced a moment where you had to "dress up" and felt as though it made you walk taller or feel a whole new level of confidence? When in the past I've dressed up for a job interview I feel as though I'm putting my best foot forward. It says that I take myself seriously and that I'm a professional. Here are some of my tips for helping you feel powerful and put together on a daily basis!
Androgynous Office Wardrobe Must-Haves
1. Oxford Shirts
An Oxford shirt is a button-down collar shirt that can be worn formally or casually. It is typically flanked by a chest pocket and tends to be of thicker material than a dress shirt. These come in a variety of colors and patterns and can be worn either more formally tucked in, buttoned up with neckwear, or casually untucked. Oxfords also look great worn under a v-neck sweater, a crew neck sweater or under a blazer or suit jacket.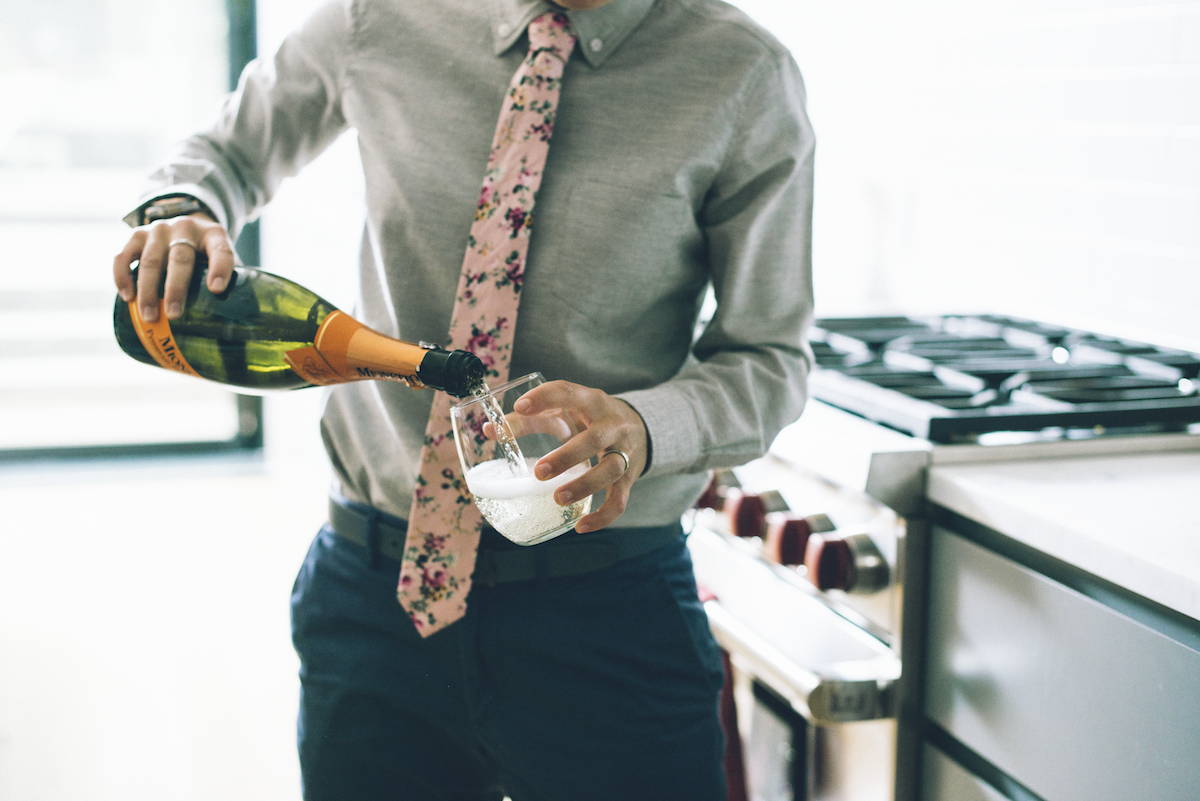 Oxfords can be worn for almost any occasion. They're an everyday item that can transition from the office, to going out in the evening, or to a networking event. My favorite shirt brands are Kirrin Finch, J.Crew and Uniqlo.
---
Sweaters are great because they come in a variety of styles, colors, and patterns so you can really have some fun with them! One of the main variations to look out for and play around with is the style of the neck. Sweaters may have a crew neck, v neck, etc. and can be a button down (cardigan) and can even be sleeveless! Because of their versatility, nice sweaters are a must-have in every closet. They keep you warm when the weather is cold or your office is chilly, and are perfect in almost any environment.
For the office, sweaters can be worn over a dress shirt or an oxford shirt. You can add a blazer to this combination or simply pair a sweater with a blazer and a pair of chinos or jeans. Sweaters are great everyday items that can be paired with or without a shirt, worn under a blazer (or even under a casual suit) or worn alone with a complimentary pair of jeans or chinos. Some sweater brands I love include: Asos, JCrew and Uniqlo
Brogues are a low heeled shoe or boot that are typically made of leather and includes decorative perforations in the upper portion of the shoe. They're my go-to shoe both for formal and informal settings. They come in a variety of styles (wingtips, monks, oxfords) and colors, so again they are easy to have fun with and shop around for. Brogues are the perfect versatile shoe that can be worn as an everyday look. Pair them with dress pants or a suit at a formal event, pair them with a pair chinos for a business casual look or pair them with a pair of jeans (try rolling the cuff) for a relaxed casual look. For bonus style points, pair them with a fun pair of socks!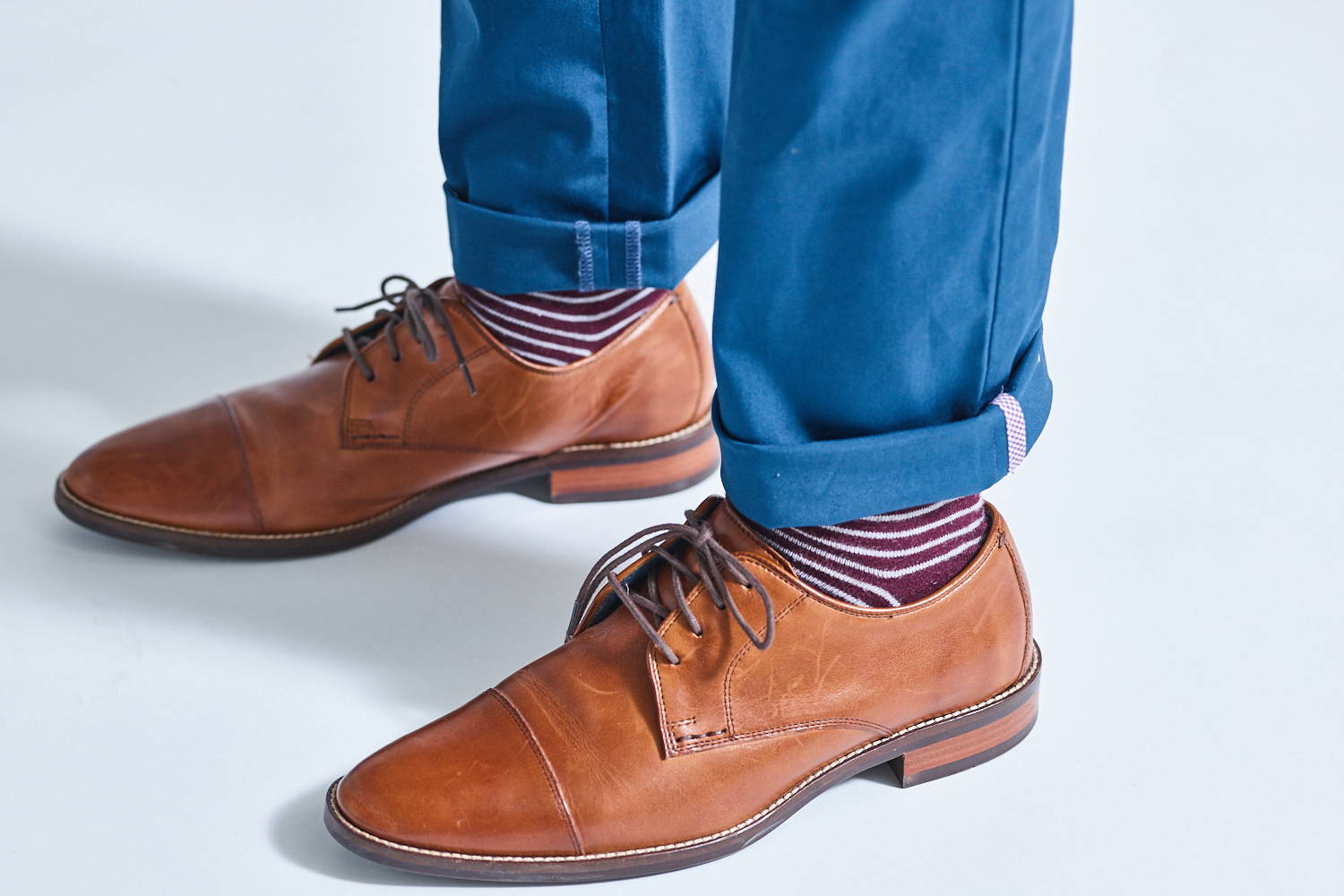 ---
Blazers are similar to suit jackets, though they are usually worn in less formal conditions and do not have a matching pair of pants. Blazers come not only in a variety of colors but also a variety of styles! Some blazers are more structured like a suit jacket while others are less structured and more relaxed (these come without the shoulder pads). Whichever style suits your fancy, you need blazers in your closet if you want to present yourself professionally!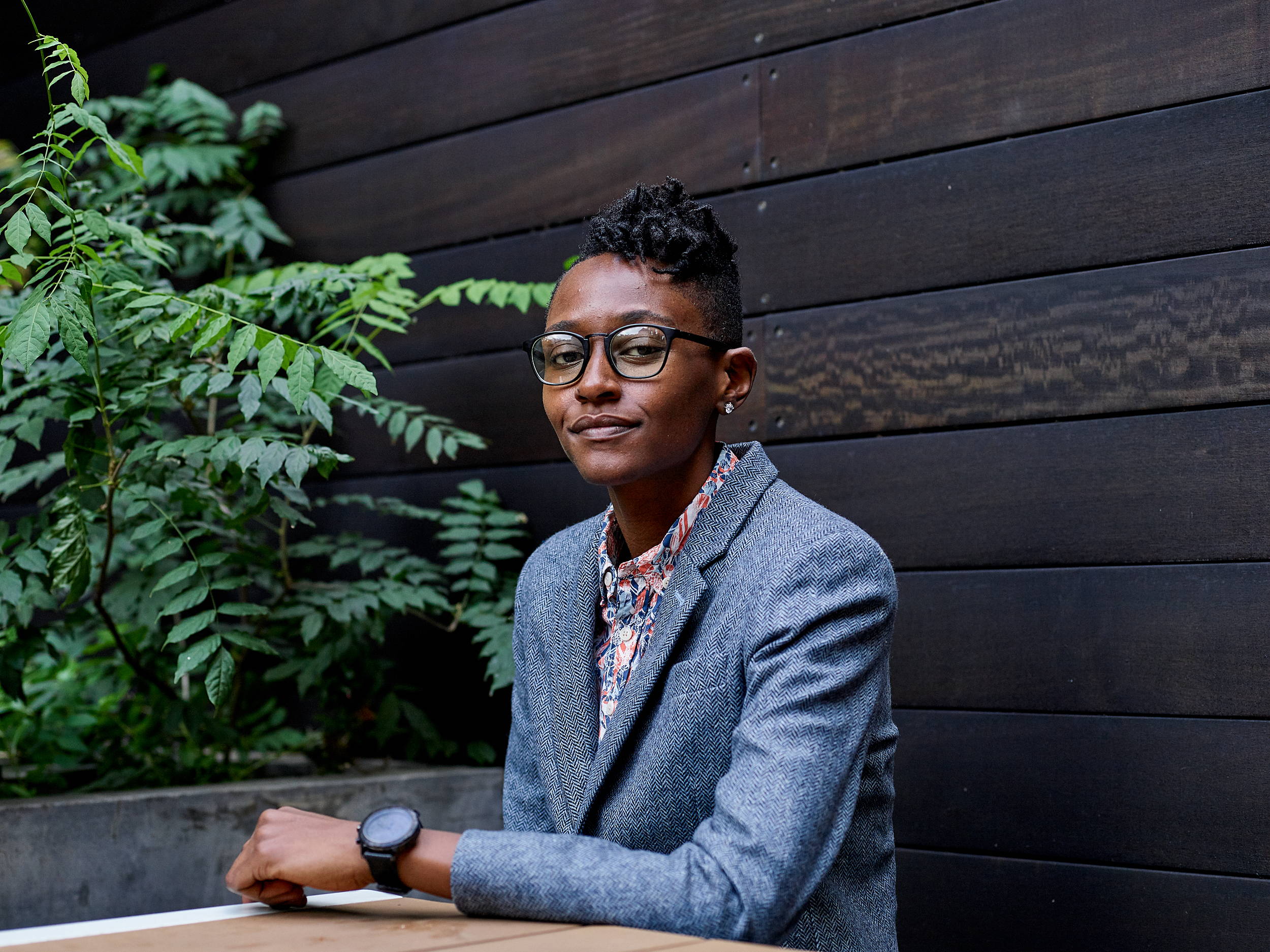 Blazers can be styled with a shirt/sweater combination or one or the other (just a shirt or just a sweater). You can also wear blazers paired with any type of pant you can imagine! My favorites are jeans or chinos.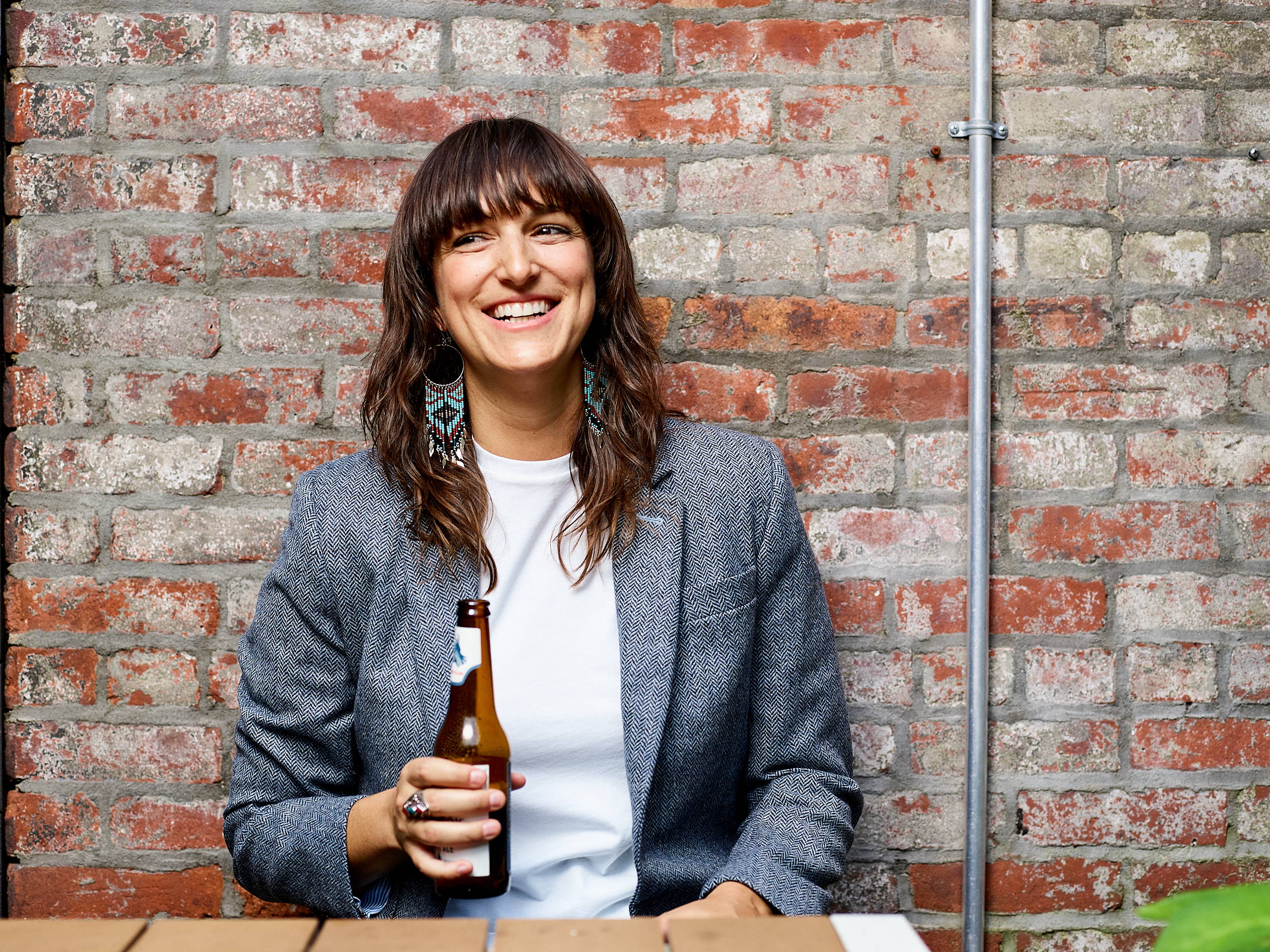 Blazers can be worn as an everyday staple in both more formal/professional settings as well as casual ones. Reserve a relaxed, less structured blazer for more casual settings such as outings with friends and weekends. More structured blazers are great for wearing to the office or for big events.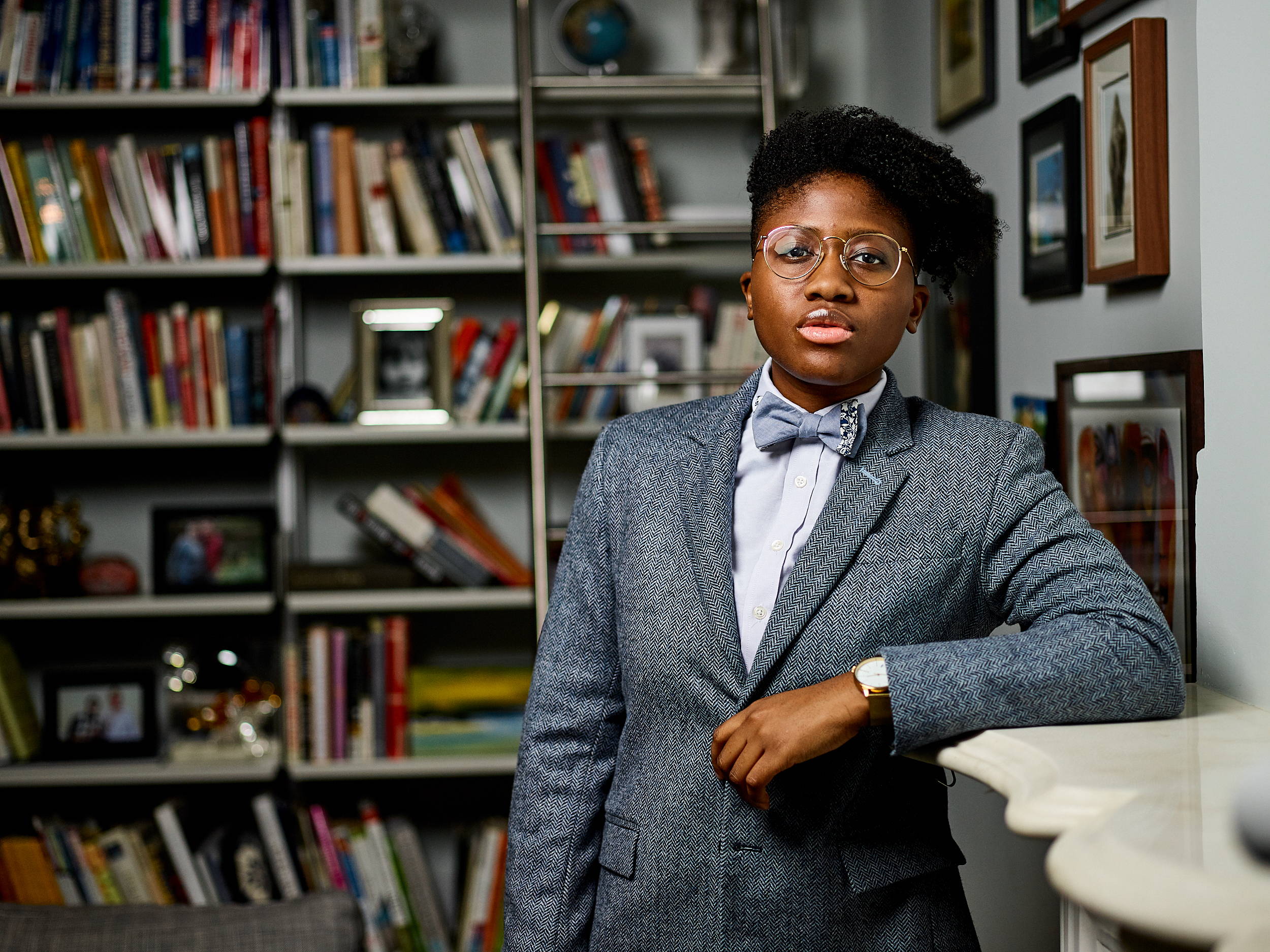 Kirrin Finch recently released a tweed blazer, specifically designed for women and non-binary folks, so that is a great option. I also like men's blazers from ASOS and Uniqlo.
---
Corinne's Tips For Looking Your Best When You Dress Androgynously

Fit is everything! Make sure that whatever you're wearing is the fit is right. You don't want to look like you're wearing your Dad's clothing. If you're wearing pants, a shirt or a blazer that's too big or too long, find a tailor. They can make a huge difference!

Something as simple as a dress shirt, a sweater and a pair of chinos can be taken up a level when you play with color. Consult a stylist or someone that understands color and how to best work with it for your skin tone. Find out the best shades and tones that look good on you and have fun!

Mix and match! Rely on basics that you can mix and match and pair with various articles of clothing to create either formal or casual looks in and out of work. Most basics can be paired with a more formal item or less formal item to be used in both settings. A few wardrobe items can go along way when you play around with different outfit combinations!
So go out there, and be your most authentic, confident self with these tips for dressing for success!