Fifty one years ago TODAY, police raided the Stonewall Inn, a gay bar in NYC. At the time, police raids on LGBT-friendly spaces were common, with officers citing various laws that gave them legal free rein to arrest and harass patrons. But on that particular night, the patrons at the bar fought back and their spontaneous resistance sparked several nights of protests. The events at the Stonewall Inn coupled with protests around the country formed a catalyst that sparked the modern gay rights movement.
Over time LGBTQ people gained more legal recognition and protections under the law in the US, and Pride month has transformed from riots to rainbows, and marches have been replaced by dance parties. Last year, as you watched the float of your favorite hotel brand pass out necklaces, it may have been easy to forget how far we have come.
It is indisputable, 2020 has been a different kind of a year and many things have changed. It was a year where we've been forced to isolate ourselves from family and friends. A year where America finally appeared to be waking up to the systemic racism in our society. A year where many of us have have been left unemployed, furloughed or forced to closed our businesses.
But one thing hasn't changed since Marsha P. Johnson, Sylvia Rivera and many others dug their heels in and said enough was enough. No matter how you identify or who your partner is, love is something that binds us all together.
So on the 51st anniversary of the Stonewall uprising, we've reached out to the Kirrin Finch community to celebrate their love and show how far we've come. But also to recognize that there is still a long way to go. We need to keep fighting for equality so their love can be celebrated for exactly what it is, nothing more and nothing less. Because LOVE is LOVE is LOVE.
EMILY & LAKSHMI
Emily(she/hers) and Lakshmi(she/hers) live in the Capitol Hill area where they spend most of their time cooking, eating, and running. They just got COVID married on May 8, 2020 in a virtual ceremony with friends and family joining them from around the world!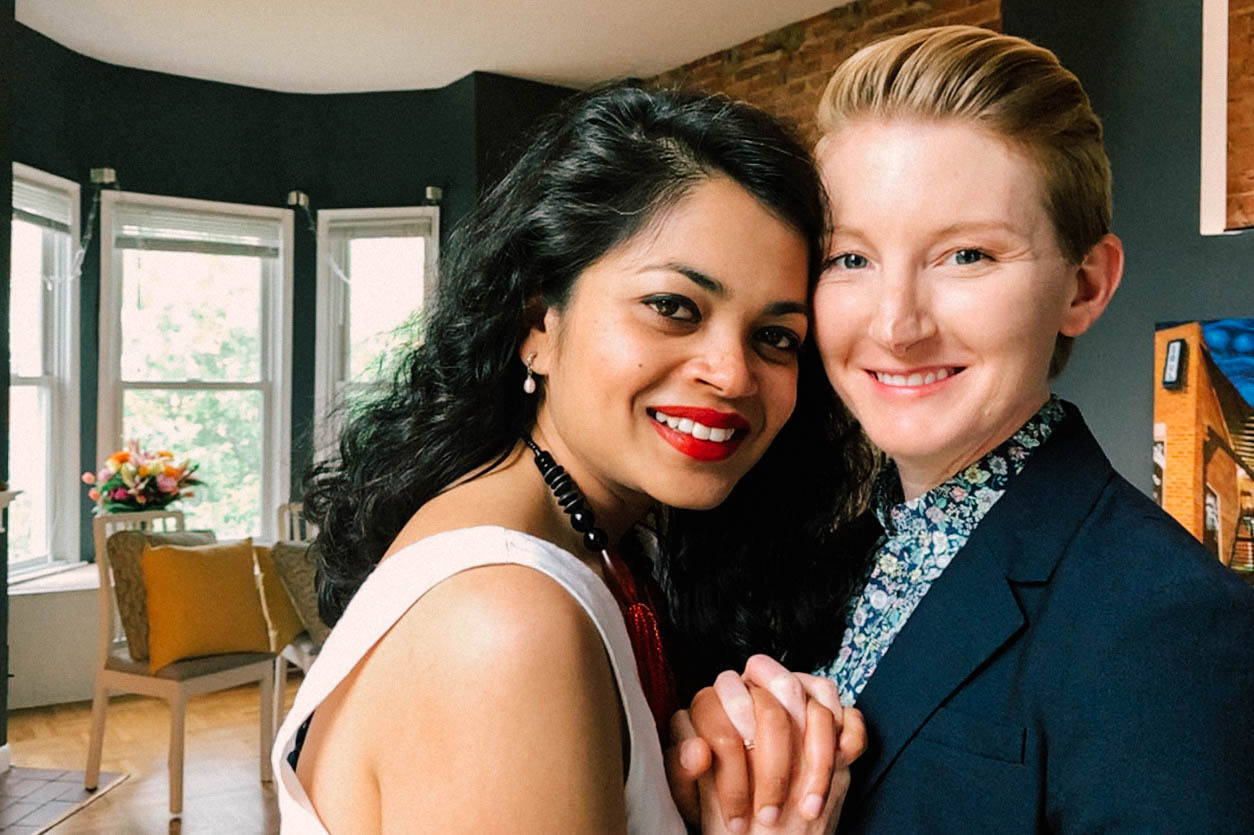 Wedding day photos via FaceTime by a fabulous queer photographer, Shawnee Custalow
What Does Pride Mean To You In 2020?
Pride in 2020 is a moment of deep reflection, gratitude and heaviness for us. I'm hopeful that we are beginning to see the ripples of change. There is no queer liberation, without Black liberation. The Black and brown trans and queer people who were the catalyst for the gay rights movement through their riots at Stonewall knew this a long time ago.

As a mentor of mine pointed out, the arc of justice for gay rights has been short when compared with that of racial equality in this country. With the repeal of the Defense of Marriage Act, DADT, the legalization of gay marriage, and the equal protection of LGBTQ citizens in the workplace, my life and its inherent privileges shifted drastically in the course of five years. I am now lawfully wedded to my wife, an immigrant from India, and able to serve my country openly should I so choose: all things that were not possible five years ago.

So, on the one hand, it has been incredible how legislation and hearts and minds of so many Americans have changed over the last few years about LGBTQ rights. On the other hand, there is no queer liberation without dismantling racism and police brutality, and without addressing class and economic inequalities in this country. It is hard to be prideful of anything knowing that racism and transphobia are alive and well and that we have a lot of work to do.
Wedding reception over Zoom
What Do You Feel Are The Most Pressing Issues for LGBTQ+ Couples Today?
That's a tough question because I don't think LGBTQ couples are a monolith. We're at the intersection of gender, race, class, ability, ethnicity, immigration status and that makes all of this complicated. I'll say that for us, as an interracial couple, we must carefully navigate the world in ways I never realized before because of my own privilege. Simple things like not being able to plan our honeymoon for fear of immigration changes with the Trump administration, and the microaggressions I witness happen against Lakshmi on a regular basis. We still have a LONG way to go for trans equality – my own friends in the military are currently barred from open service as trans servicemembers, and they are every bit as qualified as their counterparts.
JJ & EVA
JJ(they/them) and Eva (she/hers) live with their circus of cats in Oakland, CA. They recently married at a socially distanced quarantine wedding in the countryside.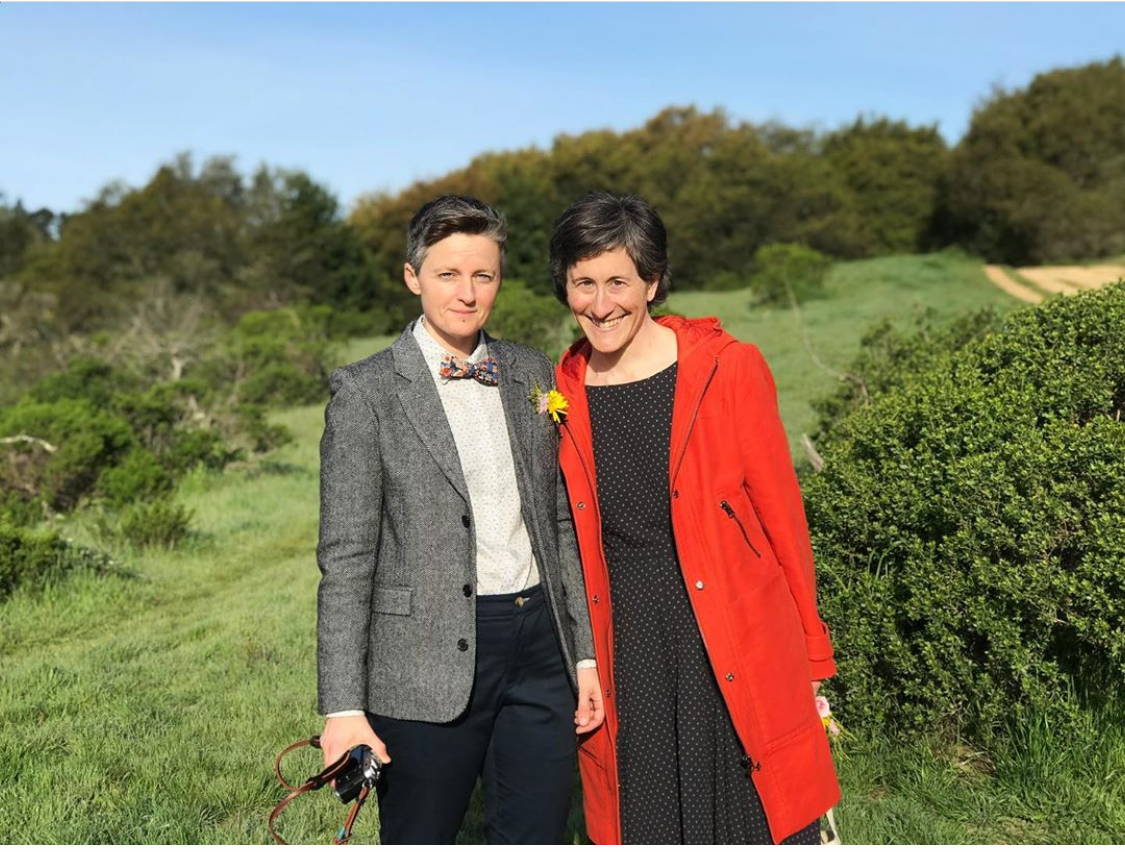 JJ and Eva at their queerantine wedding
What Does Pride Mean To You In 2020?
For us, pride has always been a time to reflect on our struggle for basic human rights while simultaneously saying f*ck it to the oppressive systems that are rooted in fear and celebrating ourselves exactly as we ARE. Now, more than ever, pride also means really acknowledging the QTBIPOC individuals who started this movement and who continue to create change.

Despite the important advances at the national level on marriage and employment protections equality, LGBTQ people - either as couples or individuals - still face a confusing patchwork of state-driven legislation that restrict their rights to access healthcare, to adopt or foster children, and to live lives that are free from homophobic and transphobic policies shrouded as religious rights exemptions.
If You Had A Chance To Chat With Marsha P., Sylvia R., Or Storme Delarverie What Would You Ask And Say?
The fact that we only knew of 1 of the 3 individuals in this question (before turning to google) speaks to our need to become more informed about the history of our community. It's hard to openly admit, but it feels necessary to be transparent and hold ourselves accountable for the gaps in our knowledge. If we could talk to these 3 humans, we would ask about their mentors and their path towards resilience. We would ask where they would focus their efforts if they were here today, and we would express gratitude for their vulnerability and fierceness.
JASMINE & IVETTE
Jasmine(she/hers), our brilliant and charming associate communications director and her partner Ivette(she/hers) live in Bushwick, Brooklyn with their special fur baby Mr Magoo !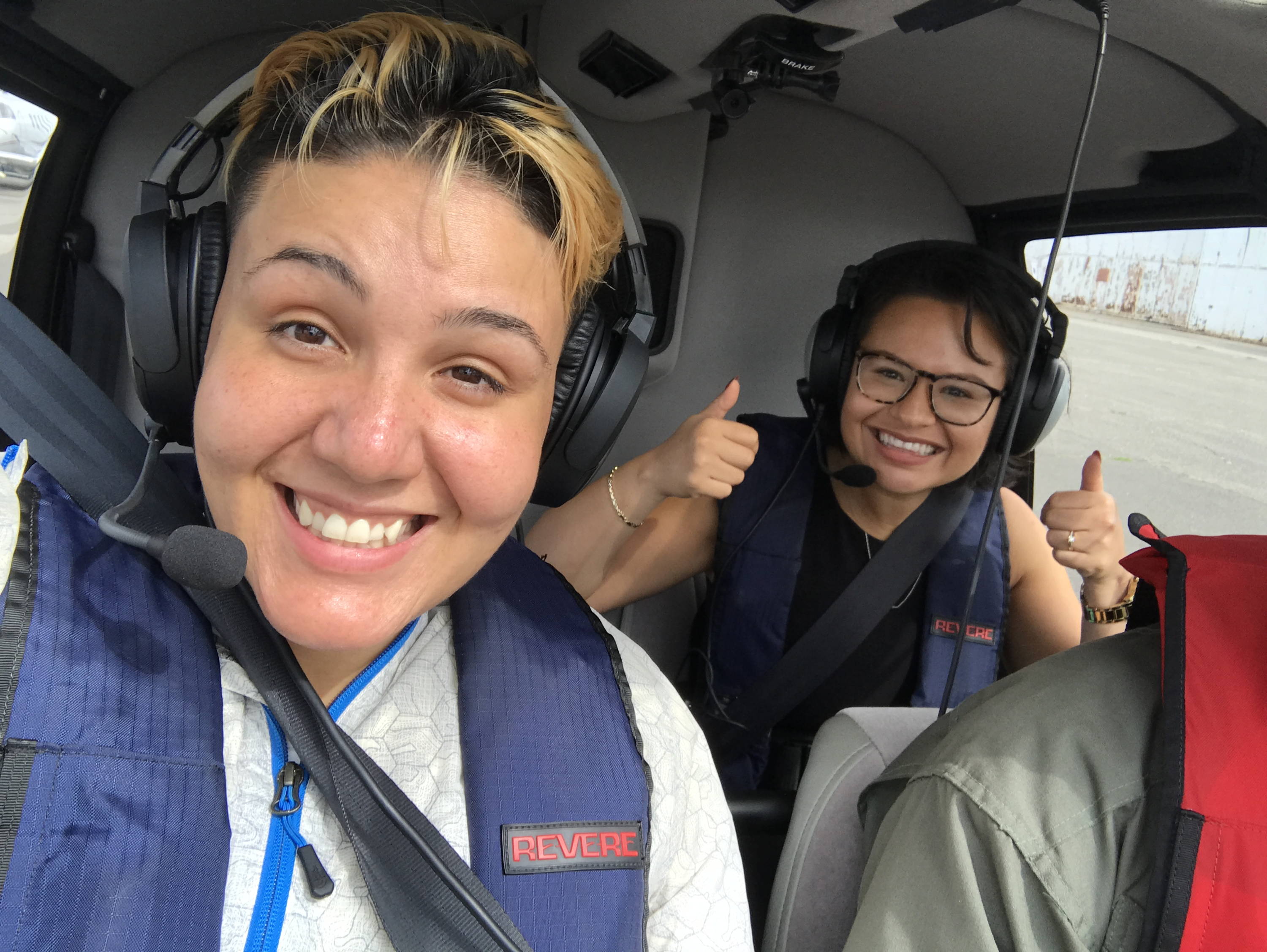 What Does Pride Mean To You In 2020?
Pride is a reminder of the blood, sweat and tears of all the people who literally gave their lives to give us a voice, human rights and to simply be treated as equals. In the current climate pride reminds us how important it is to not only celebrate but to continue to FIGHT for equality particularly amongst our black and brown family. Lastly, pride is a celebration of who we are! Pride = love!

Although we live here, in NYC, a very progressive and accepting state there are still hate crimes happening to our community everyday. We need to make sure everyone can walk down the street feeling like their most authentic self and never fear that others may do to harm them.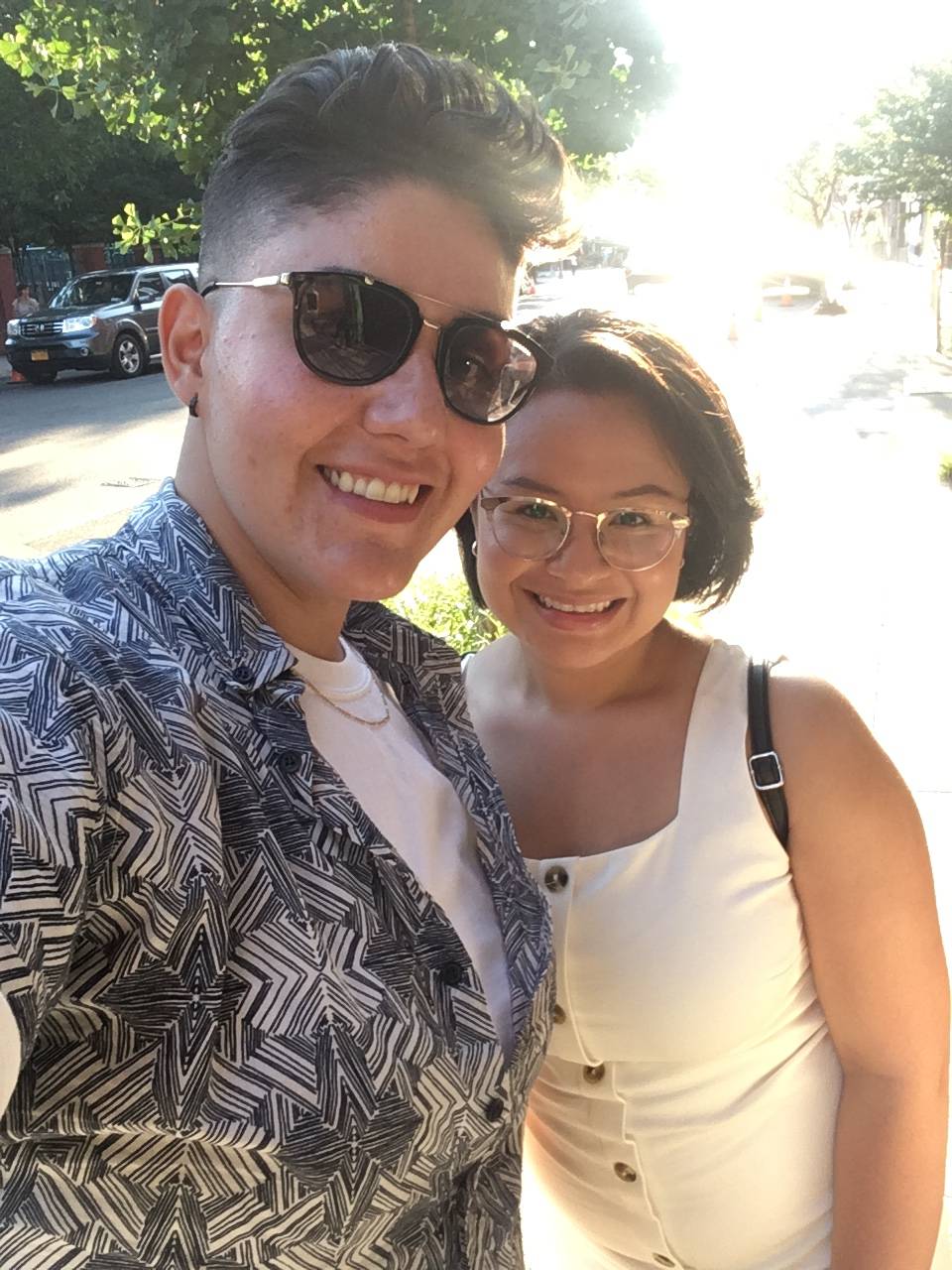 MARISOL & KENDRA
Marisol(they/them) and Kendra(they/them) live with their dog, Teedie, and a rapidly expanding indoor garden. Frequent flyers currently unable to travel, the three of them can often be found on long family walks around their BK neighborhood.
What Does Pride Mean To You In 2020?
Kendra: As someone who came out early, this will be the first time in almost twenty years that I will not physically be at any Pride celebration. So for me, this year has been an incredible moment of reflection. I can't help but think about those very early Prides with the queer community I grew up with in the Midwest—the ragtag bunch of queer (mostly) POC youth that became the siblings of my heart. The violence we regularly faced. The near daily hostile interactions we were guaranteed to have with the police. And the love and safety we found with one another. Pride has been one of the few times that we are all together, and where we can be exactly ourselves—safe and held in community. While I find myself both deeply lonely for the in-person community gatherings that my June has been centered on for more than half of my life, I am also deeply hopeful and excited about the fact that we are having more accessible and more global conversations about equity than any other Pride that I've experienced.

In 2020, with both COVID-19 and the rise in awareness about how steeped in white supremacy we all are Pride is at once a reckoning asking us to interrogate the structures and systems in place we are upholding that allow inequalities to persevere and a call for connection, in whatever way we're able.
---