Setting and Accomplishing Daily Goals To Build Momentum Towards A Healthy Active Lifestyle
Cammrynn Stith aka Coach Cam is an elementary school leadership coach and healthy active lifestyle coach based in Austin, TX. Cam was born and raised in the heart of America in Kansas. She received a BA in Mass Communications and also played college golf at Jackson State University. In her free time you can catch Cam embracing some early morning sunrise kayaking, on a hiking trail, concocting in the kitchen, dancing like nobody's watching, biking around town, pumping up the jams while empowering and working out with her clients, or grounding aka connecting with mother earth!
CAN YOU TELL US ABOUT THE TYPE OF COACHING YOU DO?
I am an elementary school leadership coach here in Austin Texas alongside my amazing company and team. We get to teach the kiddos from pre-K all the way up to fifth grade how to be an amazing leaders. We do this by teaching them how to appreciate and love themselves, the world and others, as well as about mindfulness, how to put others first and be selfless leaders. I'm really encouraging them to see the champion within themselves. I'm also a healthy active lifestyle coach setting out to get my personal training certificate.
HOW DID YOU GET INTO WELLNESS AND NUTRITION?
My healthy active lifestyle journey started about four years ago when I was a preschool teacher. I would come to work tired, exhausted, getting sick and my kids were running circles around me. As I reflected I realized that I wasn't fueling my body properly. I was eating lots of greasy foods, mainly fast food, because I was too lazy and didn't make myself or my health a priority. This put a decline in how I was showing up for myself, my kiddos, and in the world. It got so bad to the point where I decided enough was enough. I was tired of getting sick all the time, feeling super sluggish and not operating as my higher self. So I made a powerful decision to simply start, taking that first step, choosing to shift my old ways of being. It wasn't pretty at first but I set a goal and devised a blueprint that fit my schedule.
I focused on the 24 hours I had in that present day and everything I set out to accomplish that supported my new health journey and goals. I started winning my mornings, really developing my mindset, heart set, soul set and health set first thing after waking up and heading out into the world.
For example, now I will start my morning off with some sort of personal development audiobook or podcast, my gratitude journal, some type of movement, tea, a mini dance session. Winning the morning looks different for everyone, but this really helped me fill my love tank in overflow so that I could conquer the day wholeheartedly and allow that overflow to spill off into other areas of my life. I also work out 3 to 4 times a week with bodyweight or weights and the rest of the days I get active, whether that's biking, yoga, hiking, running, etc.

Sometimes it's easy to get discouraged when we focus on the end goal but when we break it down into accomplishing those small daily wins it builds up our confidence and gives us that momentum to carry on to the next day focusing on the next 24 hours.
By focusing on the daily consistent habits you've accomplished the bigger goal! Realizing that living a healthy active lifestyle isn't just about physical results it's about the inner workings of all of us, heart, mind, body, soul and spirit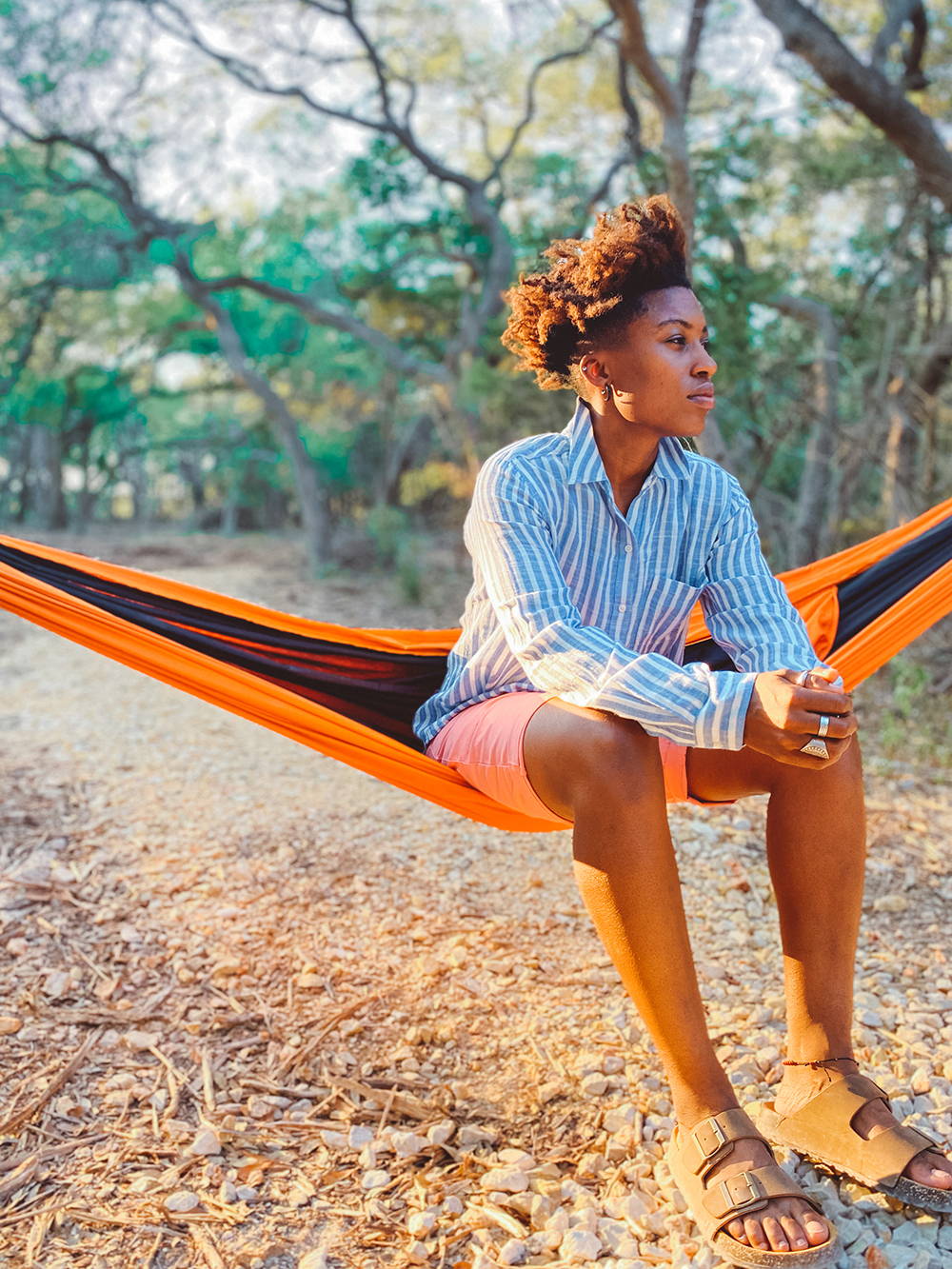 WHAT OR WHO INSPIRES AND MOTIVATES YOU?
Knowing that every day I wake up is a blessing and realizing that is truly a gift. And I know this probably sounds cheesy to a lot of people but this comes from my heart and soul...one of my greatest daily intentions is to leave a positive imprint or impact even if it's just one person.

If I can inspire at least one person to get back up again, to keep going, to love themselves a little more, to help them see how wonderful they are, to help them reignite their light, this is what fuels me daily!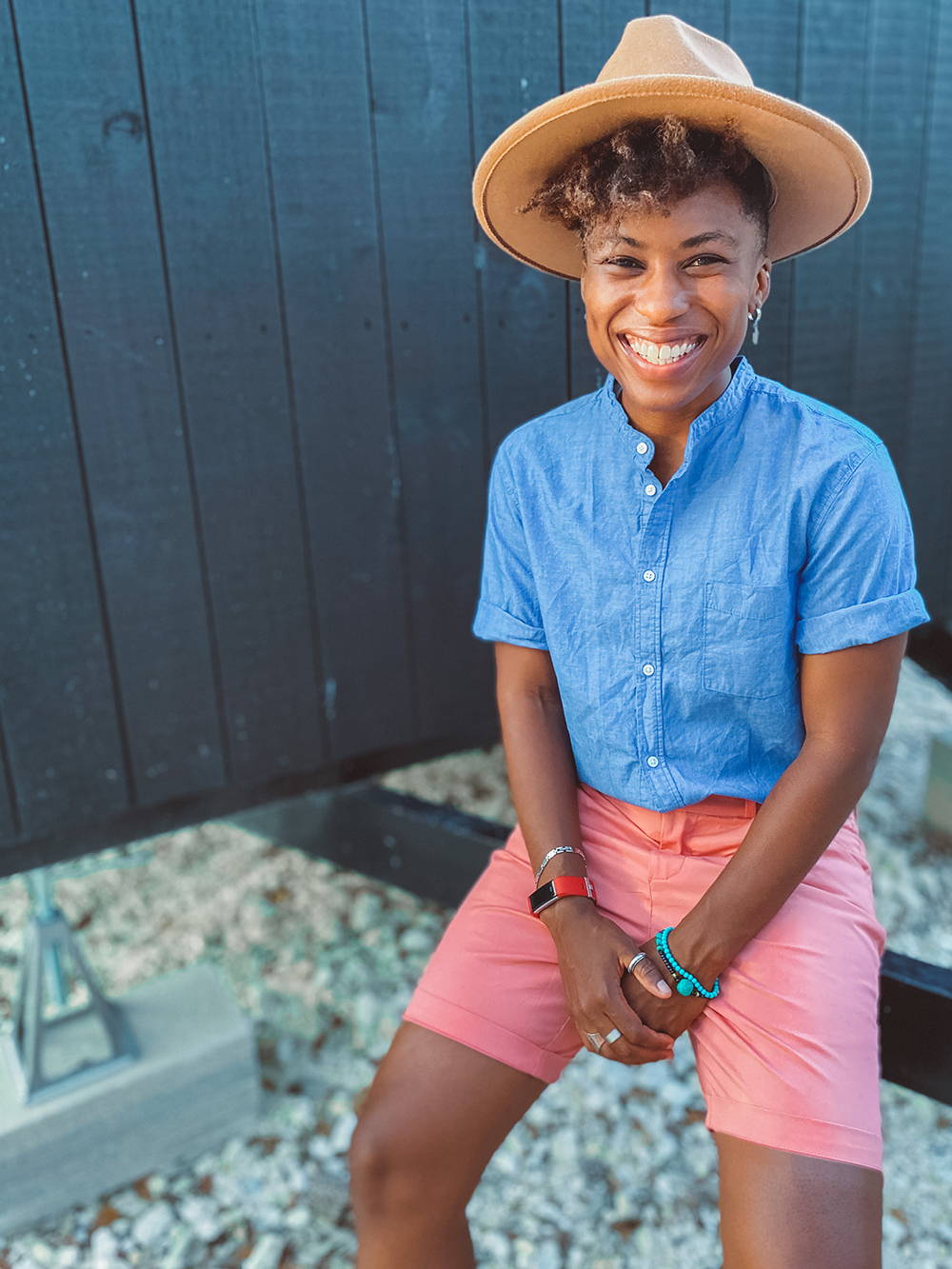 My biggest inspiration is my grandmother. Literally the most selfless humble loving kind hearted down to earth spiritual being I have ever encountered and experienced. She will literally give you the clothes off her back. She knows no stranger because she is so welcoming and makes everyone around her feel so loved and cared for. She operates and leads with so much love and light she creates a vibrant positive ripple affect wherever she steps. My grandmother aka granny ️is 82, has really bad glaucoma and arthritis but you would never know this because she never complains. She continues to to do her daily sets of 200 toe touches along with her little nifty sit down leg machine! She continues to move and to live in love and give that love to others which inspires me so much.
WE LOVE YOUR FASHION SENSE! HOW WOULD YOU DESCRIBE YOUR STYLE?
First and foremost I appreciate the compliment I'm not really sure how to describe my specific style because it is ever evolving. Sometimes I'm feeling super dapper gentlecams and sometimes I'm feeling some grunge or 90s and so whenever I get asked that question, I normally respond: simply
cam.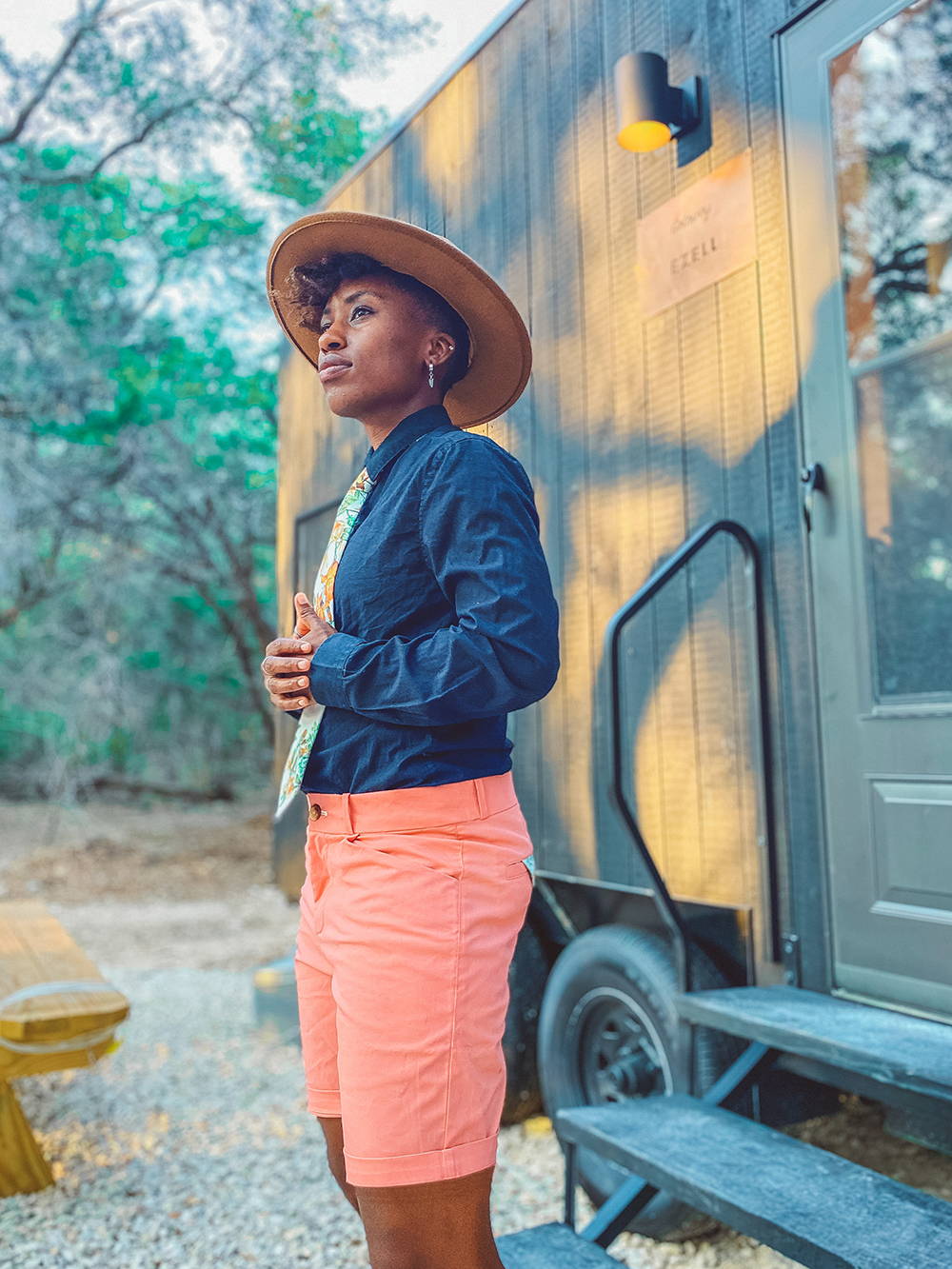 TELL US MORE ABOUT YOUR LOVE FOR HATS? WHAT'S YOUR GO-TO HAT STORE?
I am a huge lover of hats! Some of them have been gifts, but the majority of them have been thrifted! Two of my favorite hats came from the men's section in target and H&M. Goorin Bros hats are life!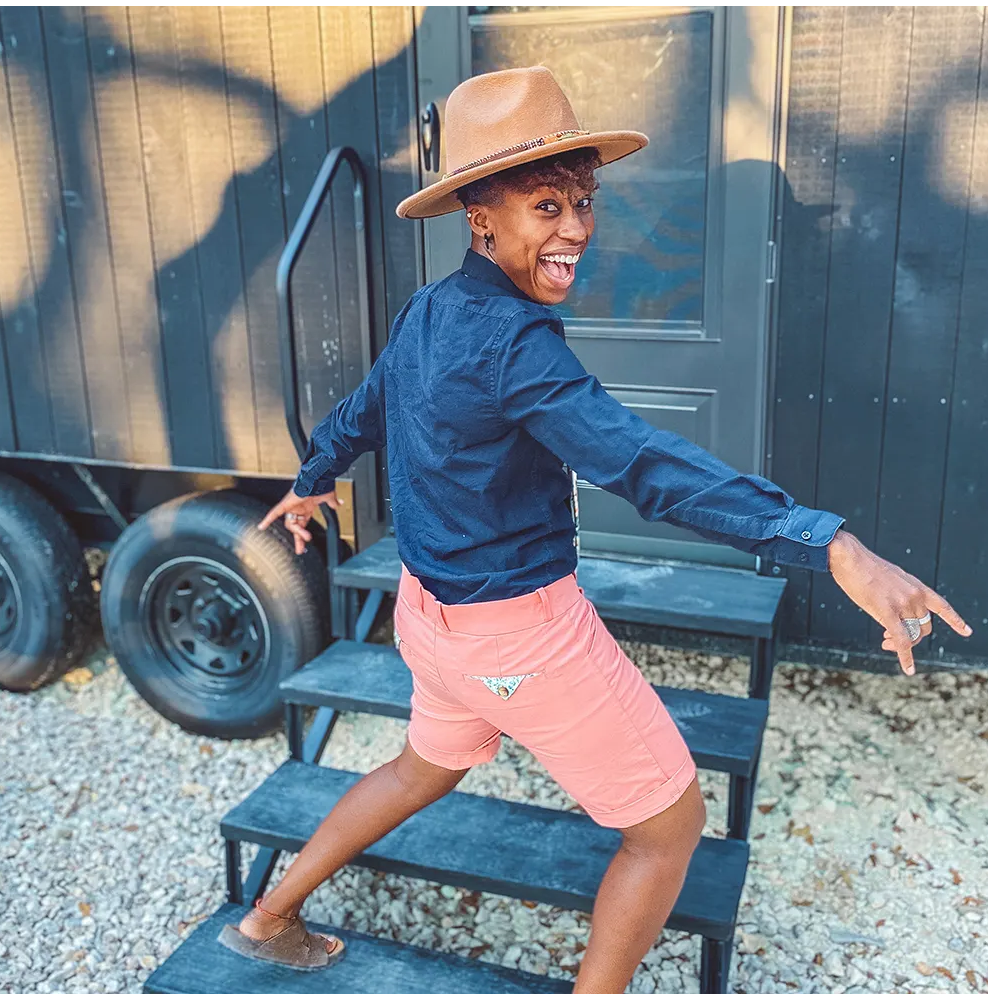 WHAT ADVICE WOULD YOU GIVE TO PEOPLE ABOUT WELLNESS DURING THIS DIFFICULT TIME? ANY TIPS TO KEEP US SANE AND HEALTHY?
During these times I know it can be super anxiety driven and stress filled so definitely give yourself a little more grace. Certainly celebrate and focus on the small wins and don't forget to celebrate yourself! You are surviving and thriving in a global pandemic, so keep doing the best you can with what you have! Remember you are a magnificent gift to this world, and take time to fuel your soul.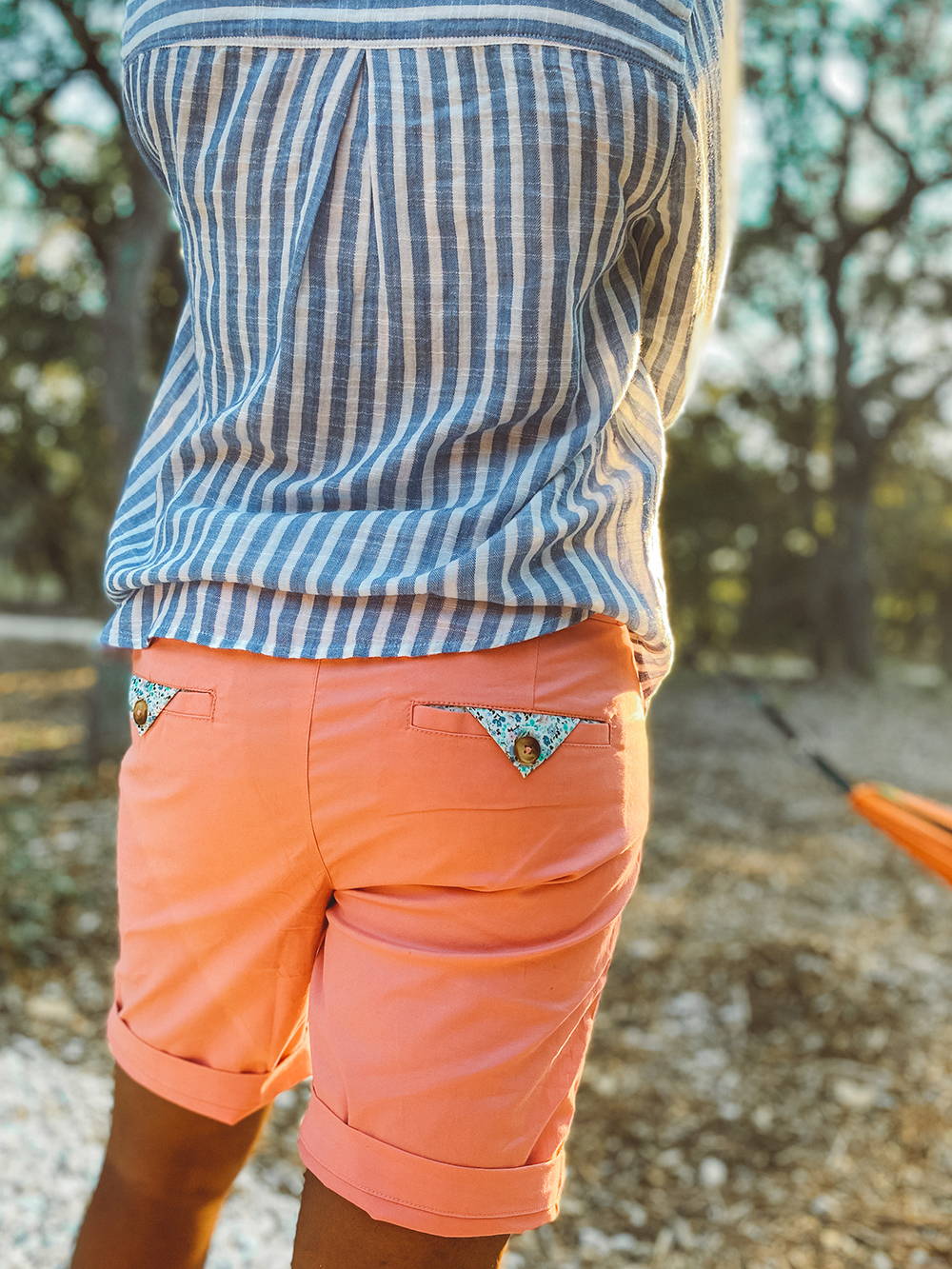 HOW TO CONNECT WITH CAM
Instagram: @coachcamcamfit