One Butchy Mom and Her Girly Daughter
Betsy is a proud social worker and fundraiser in Chicago. She has dedicated her career to harnessing philanthropy to protect the civil rights of LGBTQ+ people and everyone living with HIV, affordable and accessible housing, and quality healthcare for women and trans/non-binary folks.
Many moons ago...before diapers, sleepless nights and Baby Shark was on repeat, Betsy came to NYC and invited Kirrin Finch founders, Kelly and Laura out for drinks. Needless to say, they all hit it off and have stayed in touch. Fast forward to life in 2021, we all have kids and we thought Betsy would be a great person to share her story. Not only because she is a badass parent to her daughter Hazel, but she also is a force to be reckoned with at work.
Not all "moms" love pink and some parents in our community identify more papa. But no matter how you identify and the pronouns you use, you are important and deserve to be celebrated this Mother's Day! Let's be real, the past year brought a whole new host of challenges to parenting and it isn't easy, and we could all do with a little fist bump!
HOW DO YOU TYPICALLY CELEBRATE MOTHER'S DAY?
I typically try to spend quality time with my mom as well as my 4.5 year-old daughter, Hazel. As a Jew and a foodie, usually quality time also involves bagels and lox.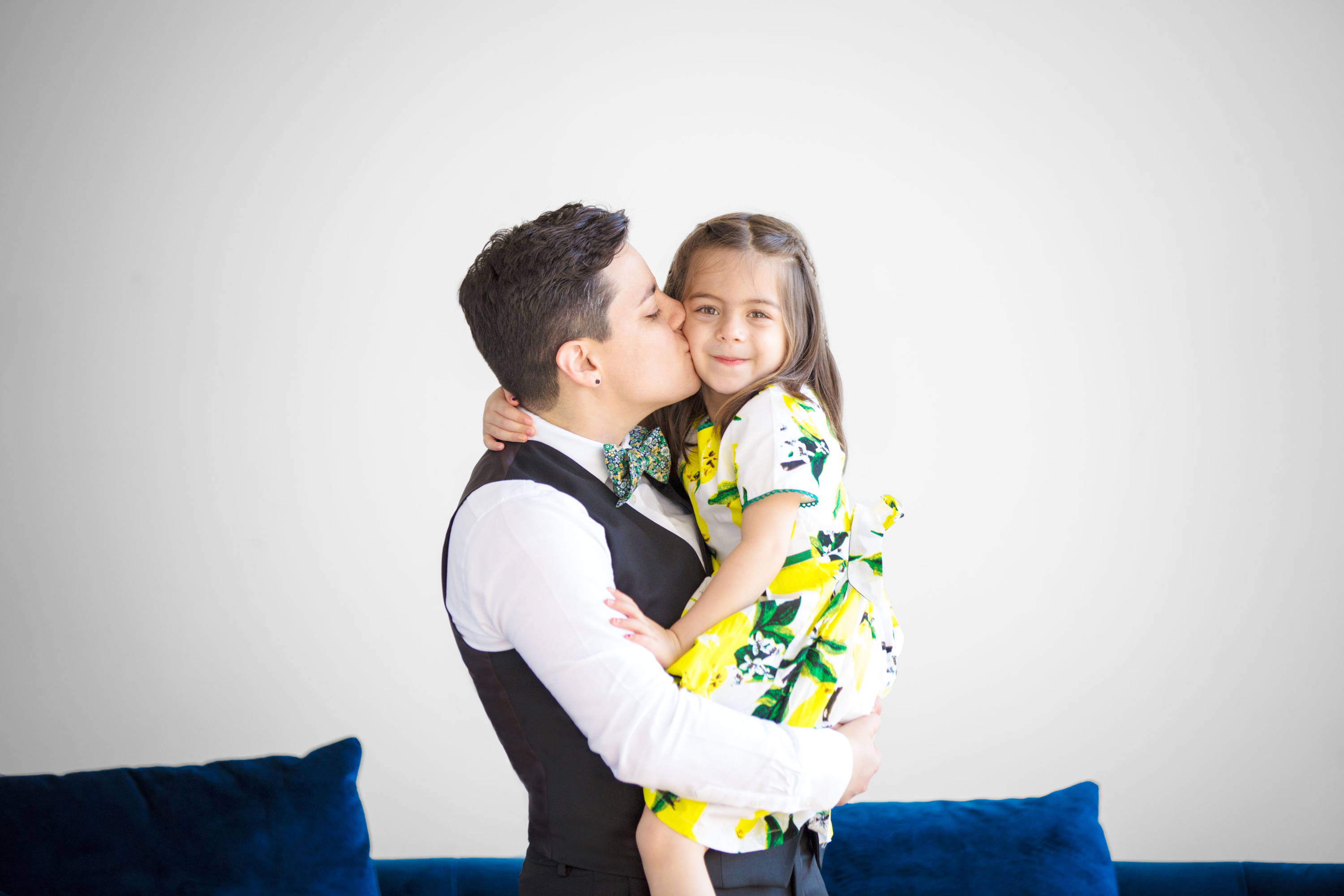 THERE ARE A LOT OF EXPECTATIONS THAT YOU'LL FALL IN LOVE WITH YOUR CHILD AS SOON AS THEY ARRIVE. WHAT WAS YOUR EXPERIENCE LIKE?
As Hazel's non-gestational parent, I think I have a somewhat unique perspective on this. Hazel was born via cesarian section, and since her other mom was still recovering, I was lucky enough to hold her first. My first feelings were awe, joy, and overwhelm, and to be perfectly honest, my initial feelings were not unconditional love. I didn't really pay much attention to that at the time, until I heard one of my favorite musicians, Brandi Carlile, admit to the same emotion before she performed her song, "The Mother." Perhaps because I didn't carry Hazel in my body for 10 months, I didn't have a visceral connection to Hazel immediately. But, over time, in a much more organic way, Hazel I developed a beautiful bond and connection, and it's definitely unparalleled to any other relationship in my life.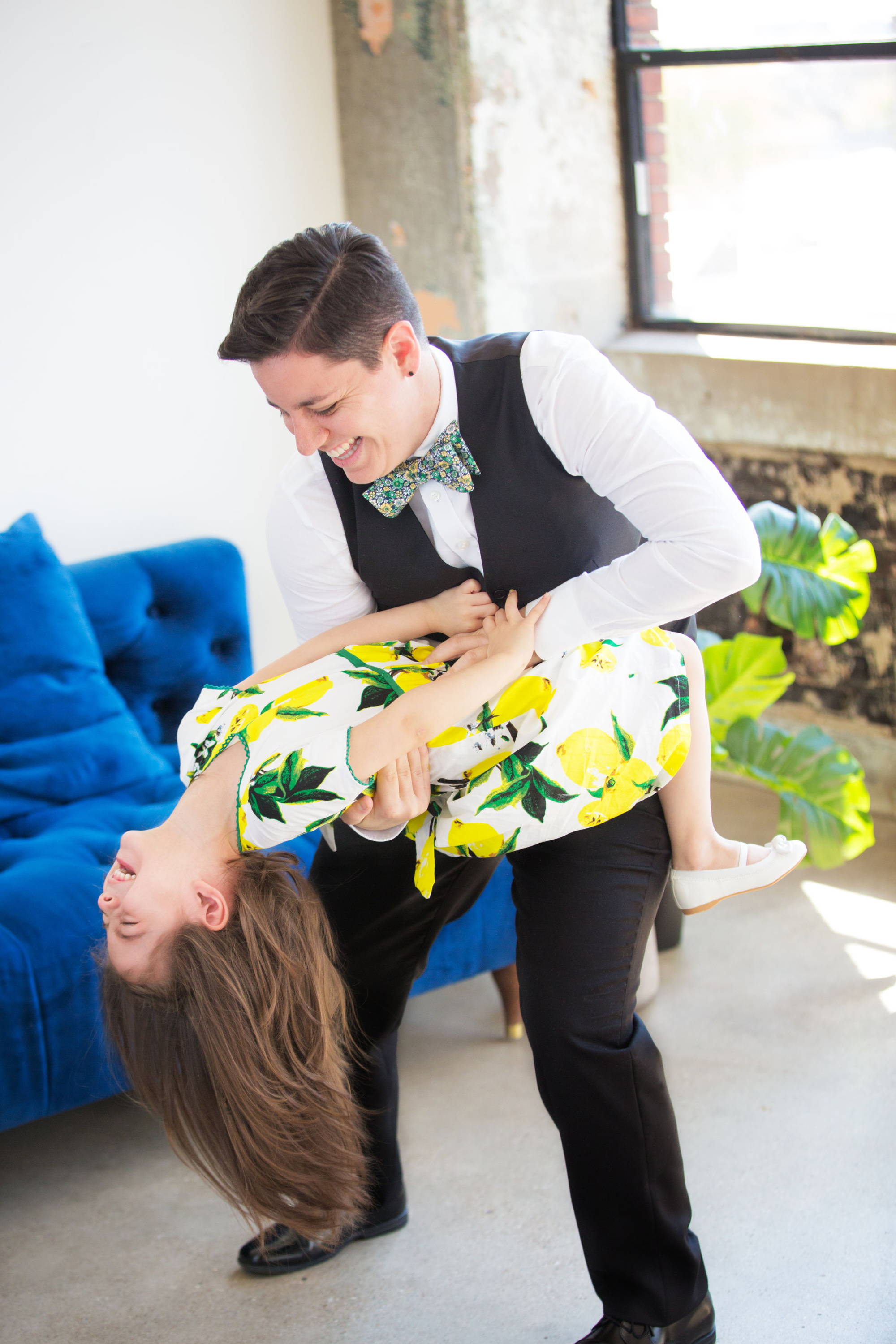 WHAT IS YOUR FAVORITE THING ABOUT BEING A PARENT?
My favorite thing about being a parent is watching Hazel develop her own personality, which is both influenced by my mannerisms and tendencies, but is also completely her own. People often tell me that Hazel looks just like me, which is hilarious because she has none of my genes. But I think what they're actually picking up on are the ways in which Hazel acts like me. I'm a pretty goofy person with Hazel, and I regularly make up ridiculous songs for her, and at this point she's memorized them and sings along with me. It makes me laugh, and I hope she turns out just as quirky when she grows up.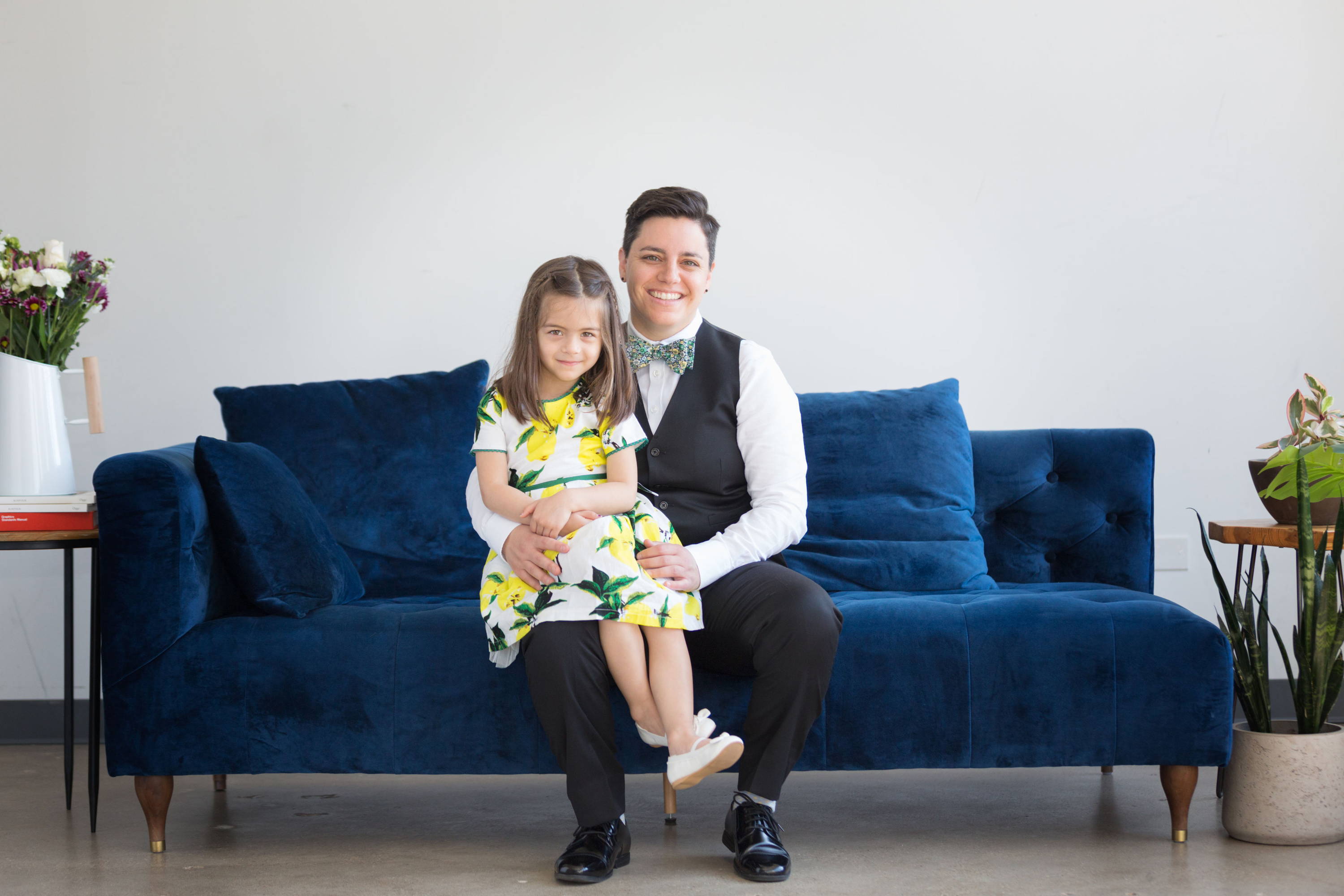 WHAT IS THE MOST CHALLENGING THING ABOUT BEING A PARENT?
Do I have to pick just one thing? Parenting is sometimes really hard, especially with toddlers and even more given the stressors of the current pandemic. I've recently started dating a new woman who has two of her own children, and while it's beautiful to watch Hazel interact with other kids around her age in a sibling-like way, it's also exhausting. It requires setting hard boundaries and then holding yourself accountable to upholding them. It's not relaxing, but I would never give it up, because this little human is also so rewarding. When she, unprompted, tells me that she loves me so much and that I'm her favorite Momma (her other mom is Mommy), I just melt into an enormous puddle.
AS A QUEER PARENT IT CAN SOMETIMES BE CHALLENGING FIGURING OUT WHAT YOU WANT TO BE CALLED. WHAT WAS YOUR EXPERIENCE LIKE?
We decided early on that Hazel would call me Momma and her other mom Mommy. I remember feeling pretty annoyed that there wasn't really an obvious option for two moms to have more distinct names (like dads using Daddy and Papa), but we've made it work. Hazel sometimes just calls us both mom, which is fine because we live in separate homes now.
KIDS CLOTHING IS OFTEN VERY GENDERED AND GRANDPARENTS AND CAREGIVERS CAN SUBCONSCIOUSLY CREATE SIGNALS FOR KIDS AROUND WHAT GIRLS OR BOYS ARE SUPPOSED TO DO AND WEAR - CAN YOU TALK ABOUT YOUR OWN EXPERIENCE WITH THIS?
Before Hazel was born, I was super intentional about requesting that people to buy her gender-neutral colors/styles and was hyper-conscious of her wardrobe turning too pink. The funny thing is that, after a certain age, the kid tells you what they want anyway. Hazel is the girliest girl I've ever seen, despite her being influenced by two moms who aren't particularly feminine. She currently insists on only wearing dresses that allow her to do a good twirl, and it just makes me laugh and I love it. Aesthetically, there's something kind of adorable about a butchy mom with her super girly daughter, so I've totally leaned into it.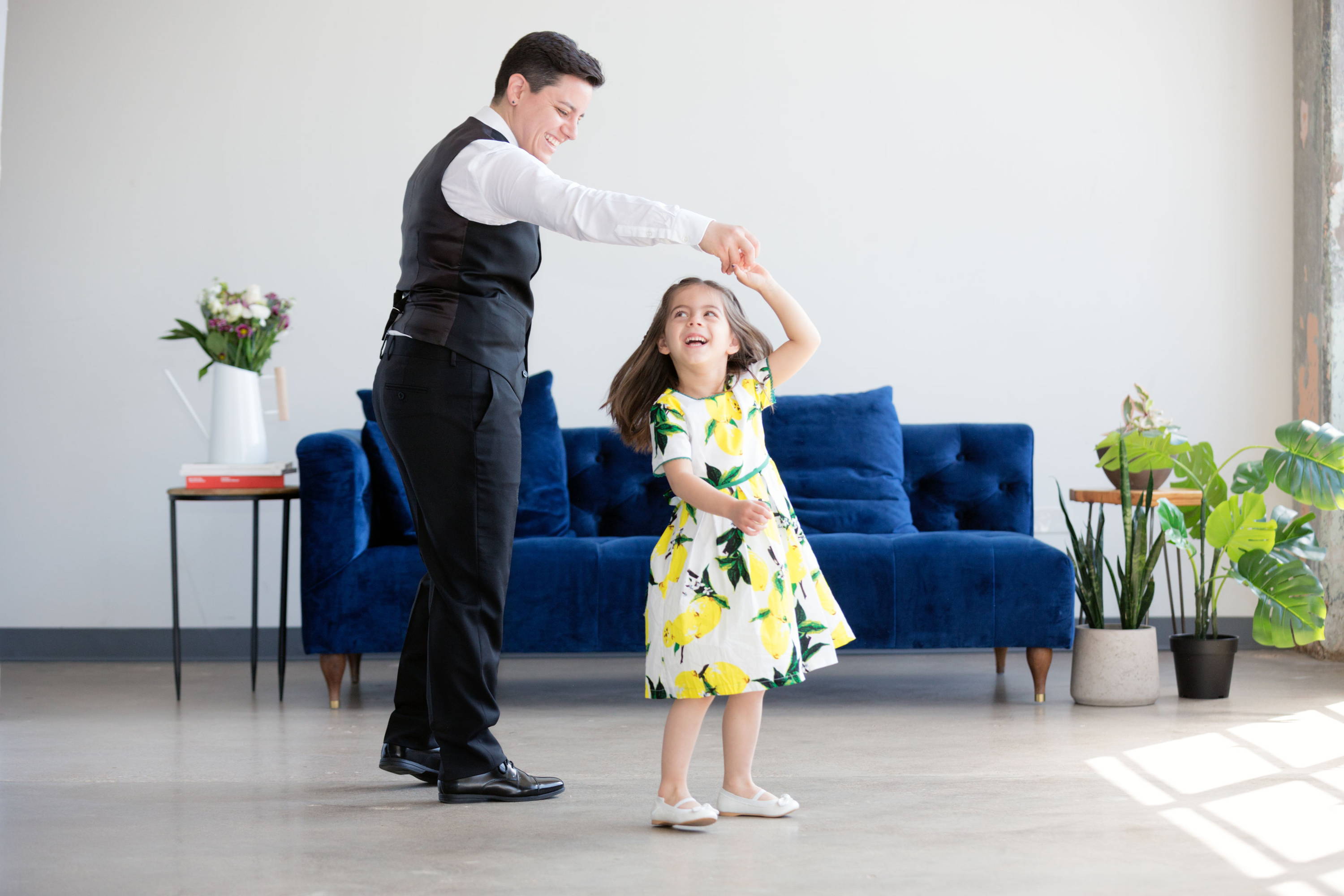 HOW TO CONNECT WITH BETSY
Instagram: @betsy87
------
Photography credit:
Instagram : kimberlykingenphotography