On Androgynous Fashion and Intersectionality
Robyn Lambird is an athlete, web media student, and an androgynous fashion lover! She uses her style to create conversations around the disabled identity and as a tool to rewrite limiting narratives. Empowered by her family to dress in the way that felt best for her, her style has evolved to become an art form and a way to bridge difference. We got to chat with Robyn about her style and the ways she believes fashion can be a tool for intersectionality.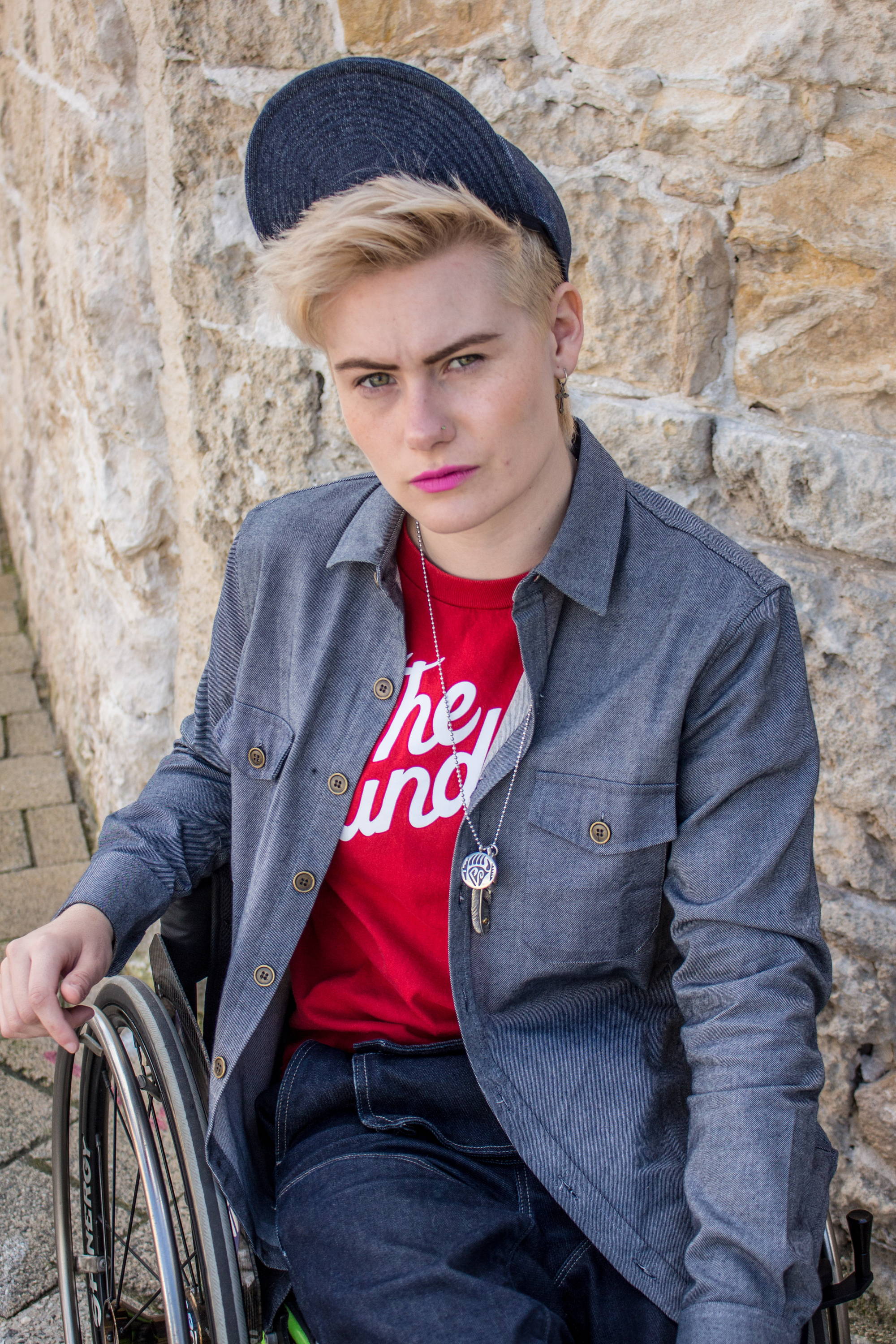 WHAT HAS YOUR STYLE JOURNEY BEEN LIKE?
It's definitely had its ups and downs, with a few phases that could have been done better haha, but overall I'm really thankful for every stage in my journey so far because it has lead me to the place where I am now, confident and comfortable in my expression. Growing up I was a major tomboy, I guess to some extent, I still am, but I'm certainly much more comfortable now expressing the more feminine aspects of my style alongside the masculine, knowing that it doesn't have to be one or the other.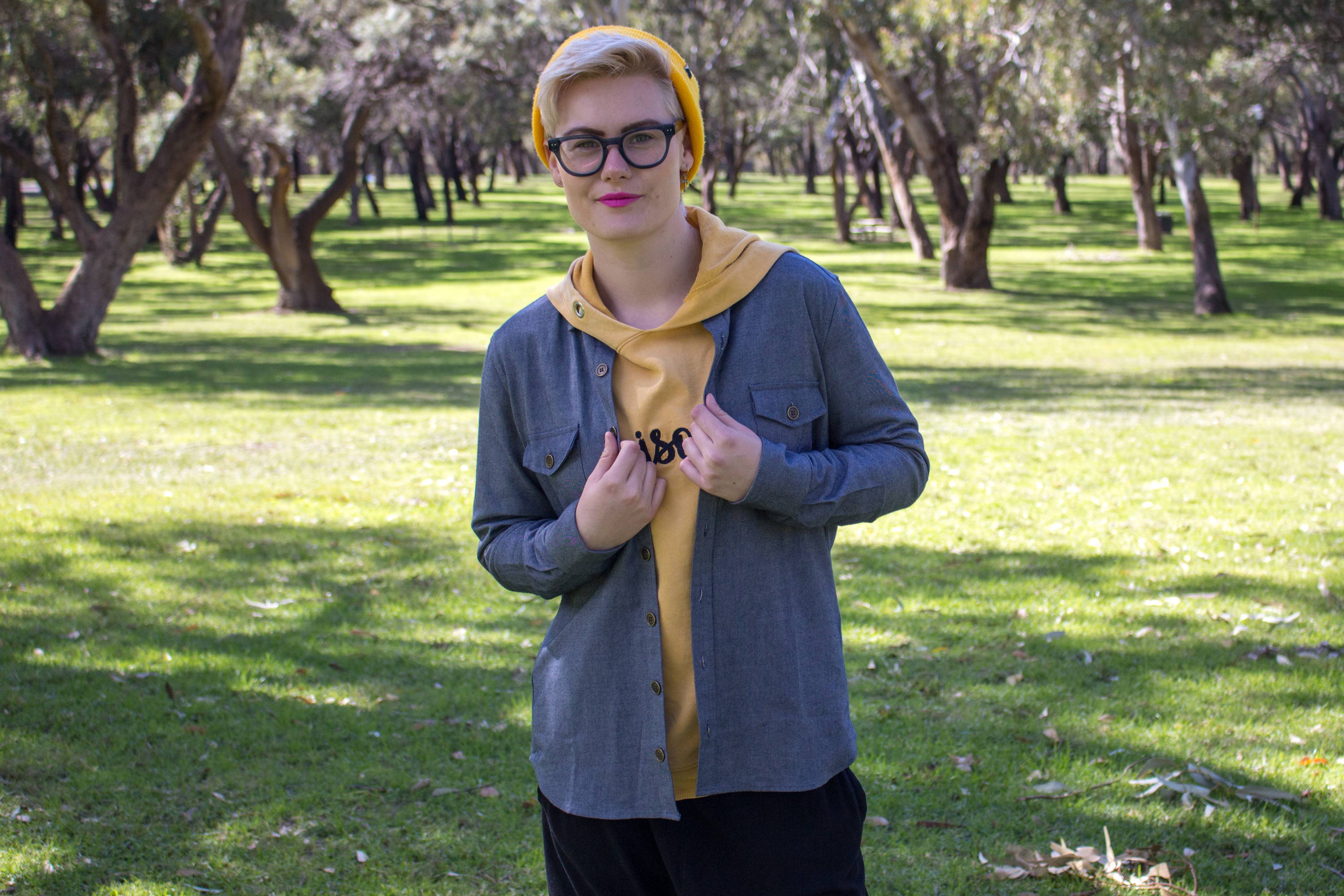 I've also always admired individuals that could blend elements of style together into a beautiful androgyny. In terms of what I'm wearing now, I'm really inspired by Japanese workwear and the use of vintage denim, I'm also an athlete so I spend a lot of time in casual streetwear that I can throw on between training sessions.
HOW DO YOU USE YOUR STYLE TO START CONVERSATIONS ABOUT YOUR DISABILITY/THE DISABLED IDENTITY?
I think style is a universal language almost like art or music; as the act of putting together an outfit that makes you feel really good or showcases an aspect of your personality is something most people can relate to on some level. Having people take notice of me not only because of my disability but because of what I'm wearing, opens the door to a conversation on intersectionality and identity. It really comes down to representation and using style as a tool to rewrite the narratives around disability.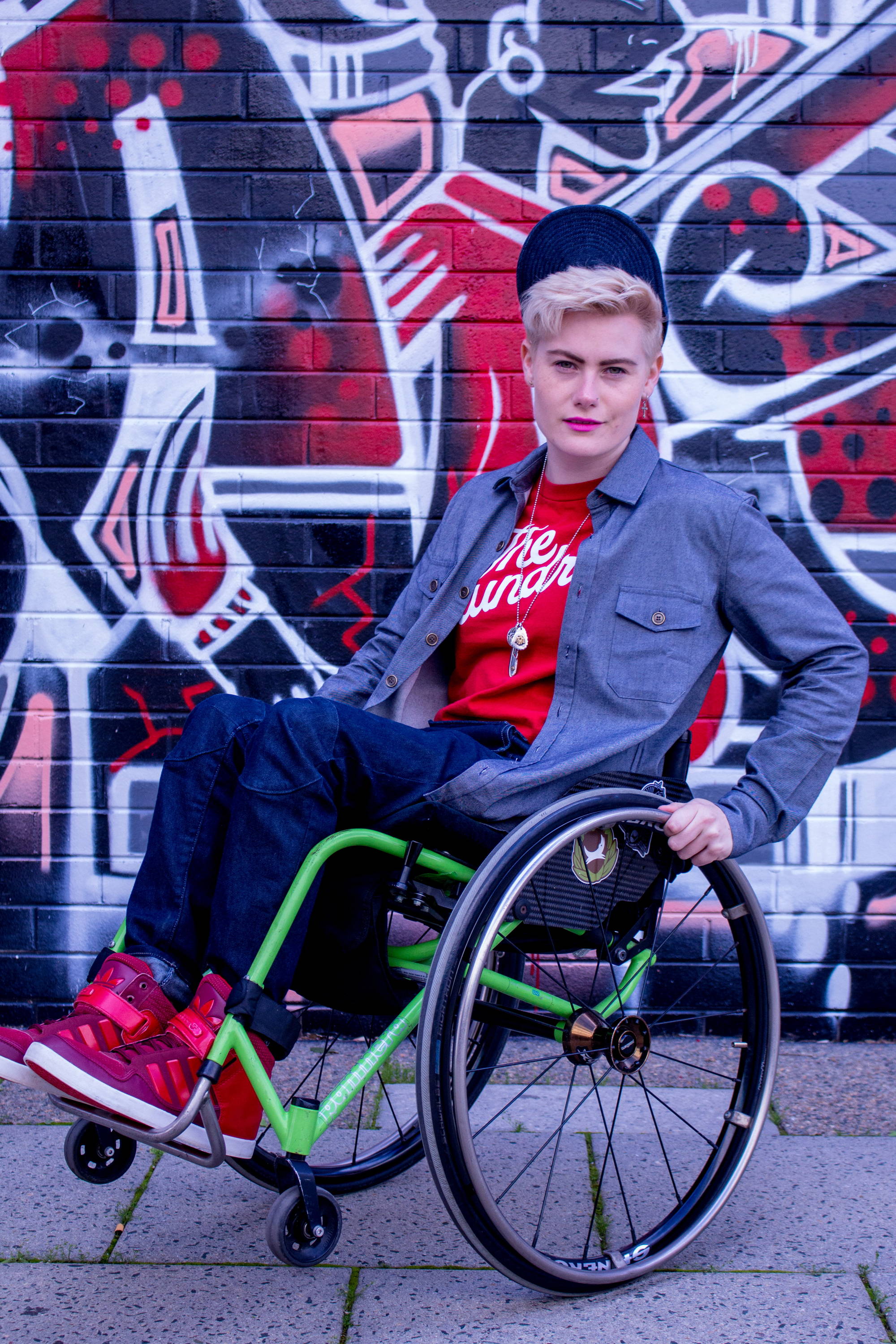 HOW DO YOU SEE FASHION AS A TOOL FOR INTERSECTIONALITY?
I think fashion is one of the easiest ways to showcase your 'authentic self', whatever that means. Through the clothes you wear you can create a story, highlighting the different parts of yourself. Often for me that means creating a look that says 'strong, disabled, athletic, androgynous'. I also think if we see a variety of different bodies within the fashion industry those bodies will be normalized to some extent, as it's common to use what we see in the media as a reflection of our society. We have already seen this happen for a number of minorities but disability has been a little late to the party.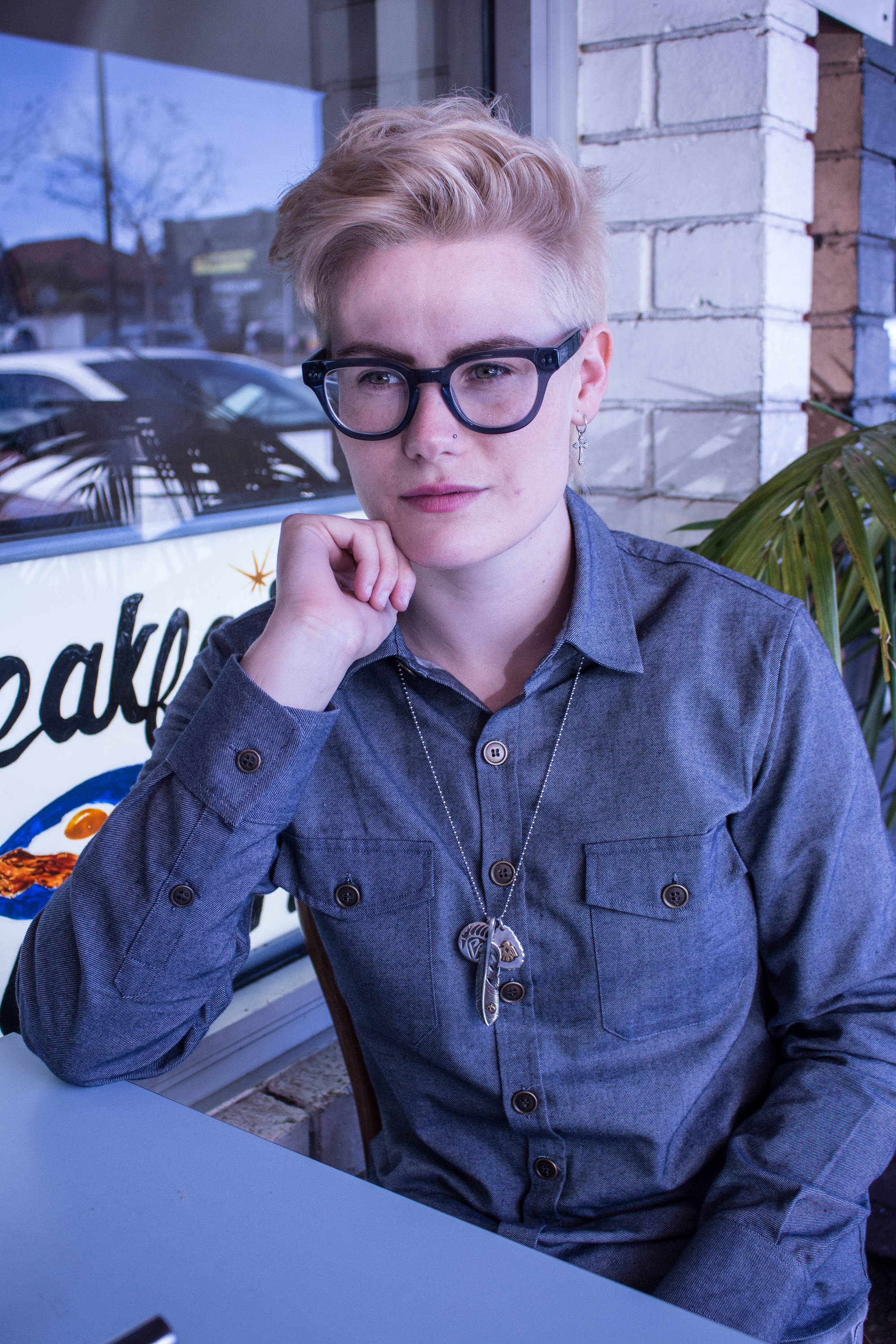 WHAT IS ONE OF THE MOST INSPIRING THINGS YOU'VE SEEN IN THE FASHION INDUSTRY?
I think the move to true diversity over tokenism in the fashion industry is a really positive step forward. We are starting to see a lot of brands making a commitment to consistent and meaningful representation, which means disabled and other individuals belonging to minority groups are finally seeing themselves reflected in that landscape in a way that is empowering.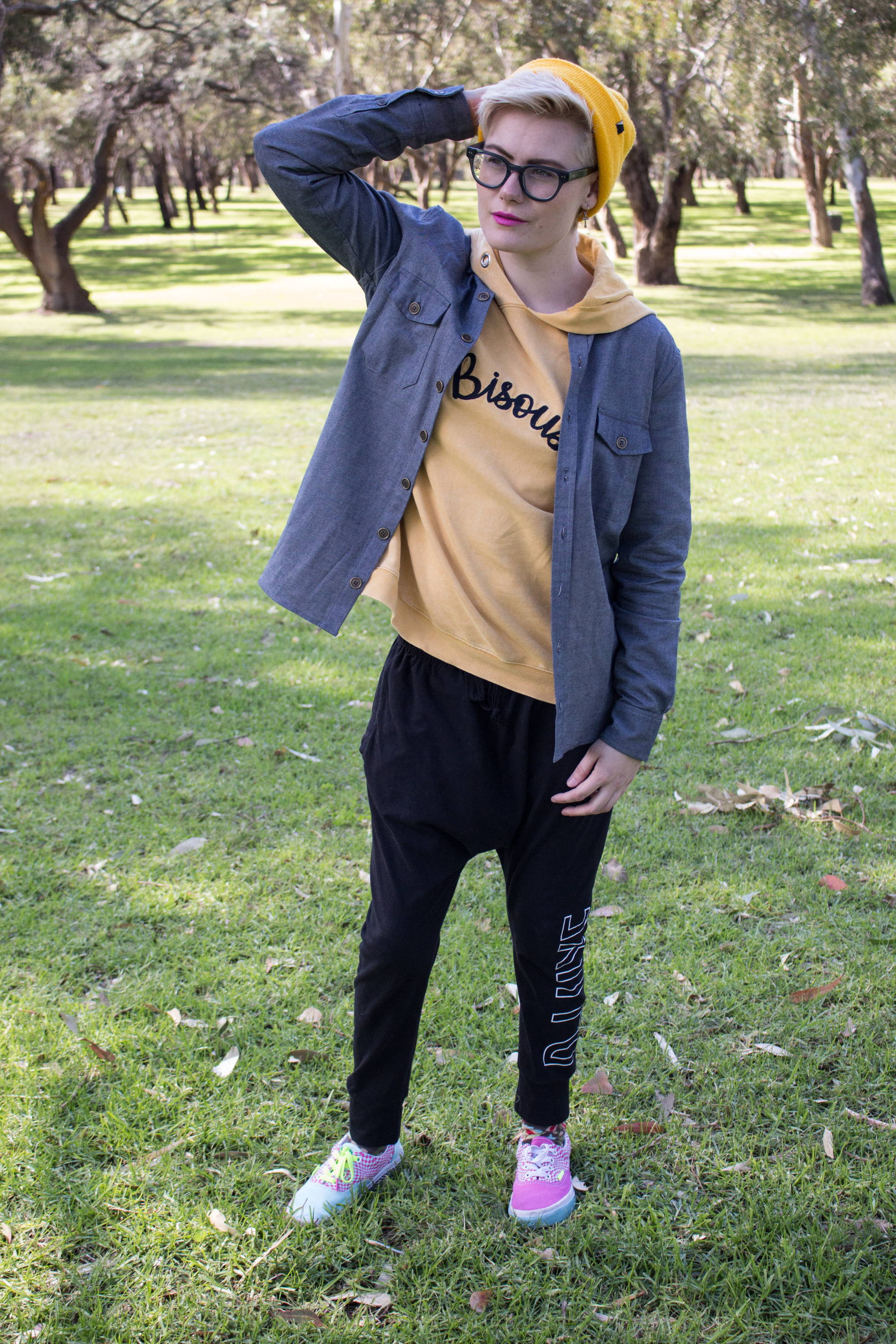 WHAT IS ONE PIECE OF ADVICE YOU'D GIVE TO YOUR YOUNGER SELF?
I think simply, to foster the confidence to express yourself, because people respond to and connect with that creativity in a way that creates a strong and positive community.
---